Print & Product Label Design
---
Have your product label artwork and vinyl banners professionally designed and delivered to you according to your specifications. Send us your label die in electronic format, including an optional mockup, logos and required text, and we will provide a quick quote for you. Get started now!
Headlight Revitalizer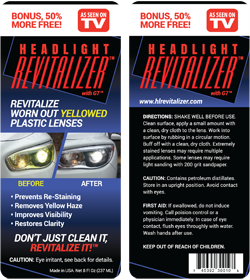 Revitalizer recently introduced its latest product in auto care restoration, Headlight Revitalizer. Specially formulated to remove yellow staining from headlights and restore clarity, Revitalizer widens its market segment with this new revolutionary and competitive product.
Revitalizer commissioned InterPow to create the front and back labels with a modern and attractive look and feel for consumers. InterPow developed a new product identity while keeping consistent with Revitalizer's existing product line.
Bon Temps Brass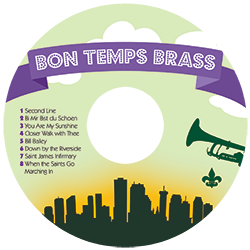 Delivering high energy New Orleans jazz in a live setting, the Bon Temps Brass Band features seasoned musicians who perform for everyone. From night clubs to private parties to fundraisers, Bon Temps Brass entertains with funky and eclectic renditions of New Orleans standards. Featuring InterPow's Mike Hetman on bass, keyboards and vocals, the band also serves as one of his many creative outlets when not plugging away entering code.
Bon Temps needed a CD label for its untitled live album and the finished result attempts to conveys the color and personality of a professional and fun live band.